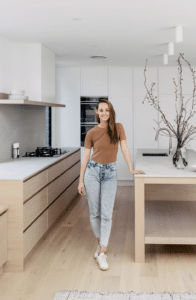 This month we are so excited to be chatting to Kate Lawrence for our Style Segment. After completing her first renovation with partner Luke in 2014, Kate quickly realised her love for renovating was one that had to be followed. As a qualified interior designer, Kate's natural ability to bring to life a shared vision for her clients is where she shines. Whether it's a renovation, new build, or styling of an existing home or space, Kate expertly manages the entire process from start to finish to create stunning interiors. It was a pleasure to chat to her and delve deeper into her creative mind.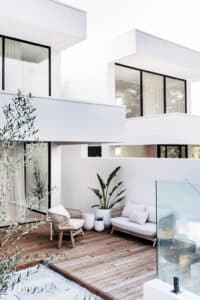 Amy: Can you tell us a bit about 'The Building Game'?
Kate: The Building Game began when Luke and I decided to make the switch from our familiar territory of renovating and tackle a knock down rebuild of a duplex in Sydney. Before the build had actually begun and we were still waiting on our DA to be approved Realestate.com.au jumped on board and were nice (or daring) enough to follow us on our very long journey. I decided that I wanted to do two quite different interior schemes throughout both homes channelling a light & dark scheme and with Luke playing AFL professionally this is where the title and play on words of  "The Building Game" was born. Each week they revealed different spaces in the home, with both sides essentially versing each other for the crown.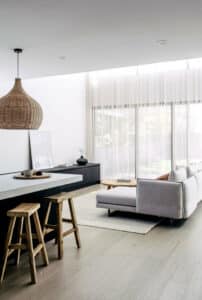 Amy: How did your journey into the interiors industry begin?
Kate: I finished school and like many who should have gone and travelled the world, jumped straight back into studying and completed my bachelors in Media Communications. After uni I worked in Media, Buying and Planning for a few years and it was during this time that Luke and I started working on our first renovation, which is where my obsession was born. I am a big believer in the cliche of create a life you love, so after a lot of thought & a few tears I decided I was going to leave my full-time job and go back to study Interior Design. It is the best decision I ever made and although I feel my path will continue to evolve it really gave me the confidence I needed to back myself in doing something creative, rather than sticking on the stable and comfortable path.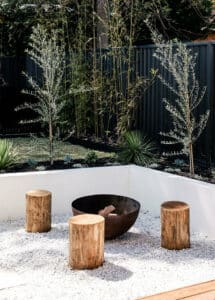 Amy: What services does Kate Lawrence interiors offer?
Kate: At the moment I offer quite a broad range of services from joinery design to interior selections for new builds or developments and furniture selections/styling. My big focus for 2021 will be on our next project and continuing my studies in Building & Construction. The goal is to one day be a licensed builder and create beautiful homes for people solely working on our own developments.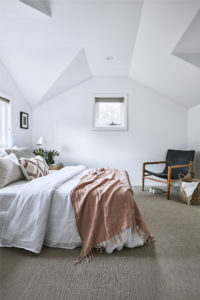 Amy: When you receive a brief from a client, how do you start your creative process?
Kate: I always start by putting together a digital mood board. I want this mood board to basically encapsulate their style in a serious of images. I like to get into their mind before I start picking anything for them! It is such a personal job and the briefing process is the most important.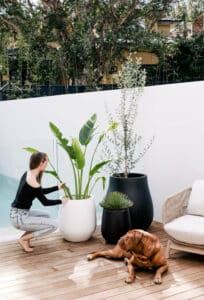 Amy: How would you describe your style of design?
Kate: I find my sense of style is constantly changing, evolving and adapting to the space that I may be in or the client I am working with. I love organic colours & natural materials. My house has a lot of linen, timber and earthy pieces throughout.
Amy: Are there any particular trends, colours, materials, products or brands you are loving right now?
Kate: The brands I am loving at the moment are @mrandmrswhite – their barrel coffee table and armchair I am obsessed with! @salt_series is a page I recently stumbled upon and have just bought two custom pieces of textured art from which I just love. Linen, timber and concrete are just some of my favourite materials I love to incorporate into basically any design.
Amy: Where do you draw your inspiration from?
Kate: Instagram, Magazines, Traveling & Pinterest. Although I would like to spend less time on Pinterest as you have to be careful it doesn't strip you of your own creativity.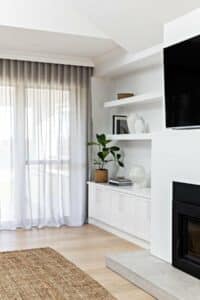 Amy: Are there any particular creatives you follow?
Kate: So many!  A mix of interior pages, builders and designers but my favourites at the moment are – @therangebyronbay @Ruum_living @Graya @sarahshermansamuel
Amy: What are your favourite items from the Huntley + Co range?
Kate: I love the classic white linen Ellery and the Avalon Coffee table.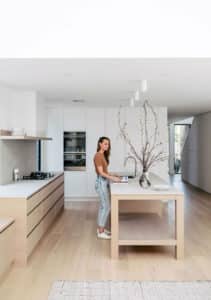 Follow along more of Kate's creative journey on Instagram @katelawrenceinteriors or at https://www.katelawrenceinteriors.com.au/
A special thanks to Kate for chatting to us on The Style Segment. Stay tuned to find out who our next guest will be!