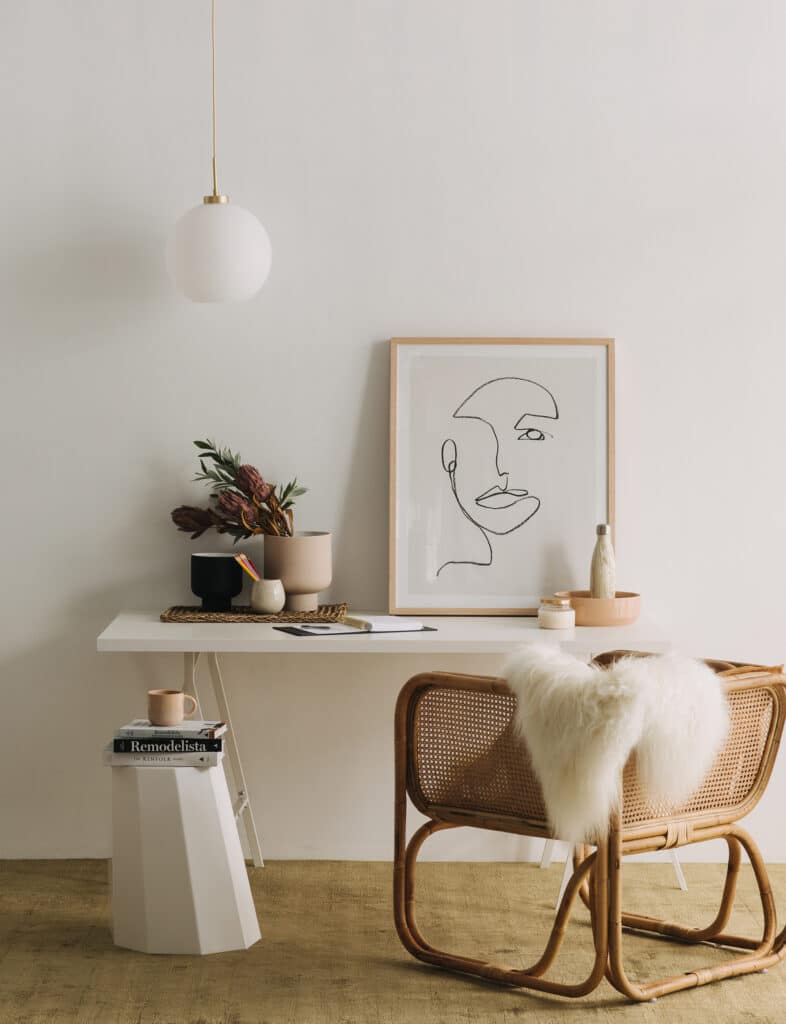 Image source: Pinterest
With more people working from home than ever before, we thought it was timely that we share some simple tips to help style your home office space to ensure you continue to feel inspired and productive.
We're sure many of you are finding it somewhat of a challenge to separate home life from work and are also missing the lack of social interaction with colleagues and clients. It is important your designated workspace motivates you and the best way to do this is by ensuring it is aesthetically pleasing so you enjoy spending time there. So, here are some of our suggestions:
Declutter
Start by clearing your workspace from any items that don't serve a purpose in the space – if you are not going to be using an item for work or styling purposes then remove it. Store the mundane stationary items (i.e. your stapler) in a drawer or nice storage box/basket so as to minimise the clutter on your desk. Decluttering will provide a clean base to begin styling and will instantly create a sense of calm and order.
New Stationary
What better way to style your workspace than with a refresh of some of your stationary essentials? It is a great opportunity to add colour to your space through some beautiful notebooks, planners, pens and more. Who doesn't love shopping for stationary? Kikki K, The Paper Place, The Daily Edit, Typo and Temple & Webster are just a few fun places to start to you off!
Plants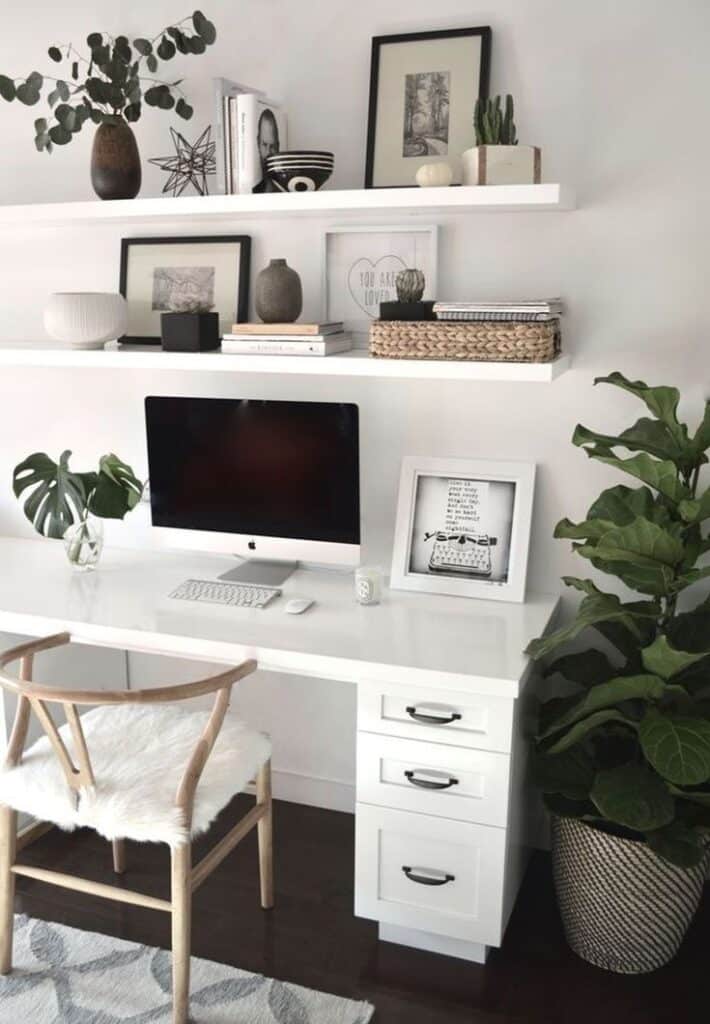 Image source: Pinterest
Indoor plants are an absolute must for us when styling any space! Real or faux, we don't discriminate. Although if we had to choose, the real deal is the way to go. Plants inject life into a space and bring the outdoors in which connects us to nature and instils a sense of calm. Research consistently finds that by adding plants to a workspace aids in decreasing stress and increasing productivity. Not to mention the added health benefit of purifying the air. If you decide to use real plants to style your workspace, we suggest opting for low maintenance varieties and be sure to choose a beautiful pot or plant stand that complements your home office scheme.
Light
Natural light trumps artificial any day of the week. So, if it is at all possible, we suggest setting up your workspace by a window to allow the sunshine and natural light to flood in. However, we know this isn't always possible. Alas, another opportunity to inject style into the space through the use of a beautiful table or floor lamp. Or if the budget permits, a pendant light can also add interest and take your styling to the next level. At Huntley + Co we are big on lamps and when styling a property for sale, it is one of our most favourite go to's. Here's a tip when purchasing your light bulbs – task lighting with cool bulbs is proven to assist with concentration and imitates natural light best. Cool light can however feel a little on the clinical side. Warm lighting, however, is cosier and more homely and is ideal for places like a corner floor lamp within a space.
Wall Art
Art is a sure-fire way to add the wow factor and will aid in bringing the space to life. Through the use of art in styling, you can introduce colour and interest into your workspace. More often than not, art is the jumping off point for many other styling decisions within the space. Many a property's have been styled around a statement piece of art and it is often the first item our stylists will pull when making their accessory selections in our showroom.
Candles
Candles don't only look amazing; they smell just as good! Scent can stimulate the brain and ignite concentration, so they are not only a great item for styling your workspace, they are also excellent for productivity. The same can be said for a beautiful oil diffuser. Both candles and diffusers make for great styling props.
Shelving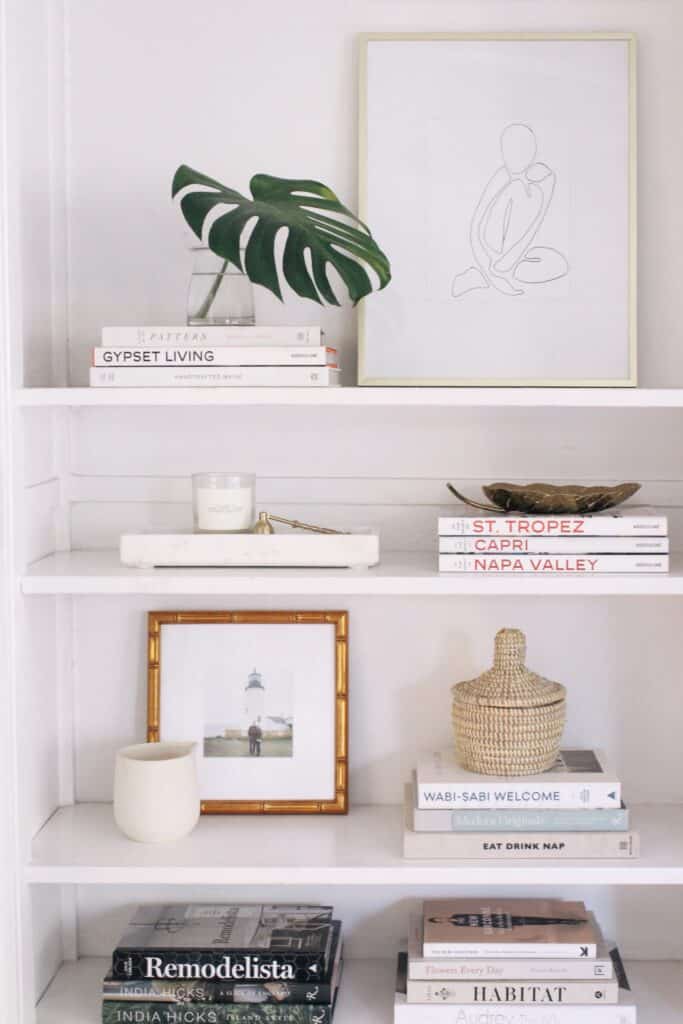 Image source: Pinterest
Floating shelves are not only an excellent source of storage when you are working with a smaller space, they present a serious amount of styling opportunities. There are no hard and fast rules for styling shelves, however At Huntley + Co we love to style shelves with some of these items: books stacked horizontally, a small pot plant with a hanging vine of some sort, small clusters of decorative ceramics, framed prints, candles and the list goes on. This is where you can get creative. Be sure to use items of different sizes and heights to create interest and balance.
Furniture
Depending on how long you intend to be sitting in your home office, you may need to opt for more ergonomically sound furniture pieces. So, while it is tempting to purchase a beautiful occasional chair, it may not be the best choice as your desk chair. But by all means, if space permits, a statement chair in the corner adds a gorgeous styling element and makes for a nice space to enjoy a coffee break or take a phone call. If you only intend to be working at your desk in short stints, intermittently throughout the day, then you may want to choose form over function and splurge on a stunning statement chair. Here's another hot tip: Refurbished armchairs (or desks for that matter) can look great and are an affordable alternative to purchasing new.
Floor Rug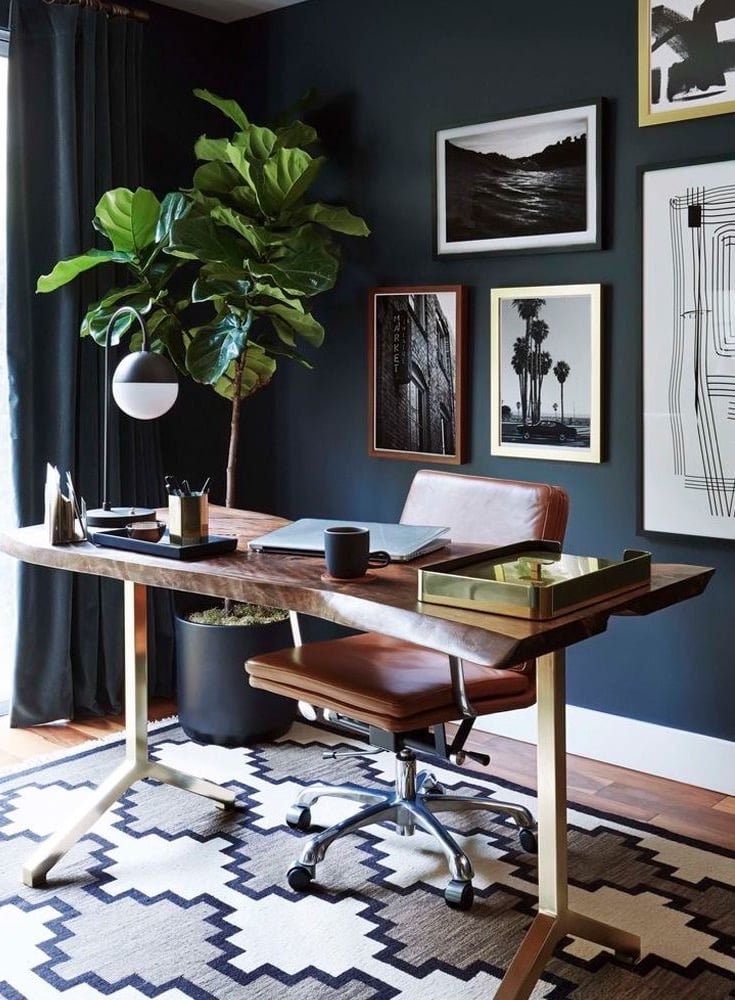 Image source: Pinterest
Often overlooked, the humble floor rug can completely transform your home office if the space permits. A floor rug can anchor the room and add a beautiful softness to the space, not to mention create warmth and add another layer of texture and colour. We have a huge range of floor rugs at Huntley + Co as it's another of our property stylists' absolute musts.
That's it from us. We hope you have enjoyed our tips and tricks for styling your home office space. Now it's time to get to work!