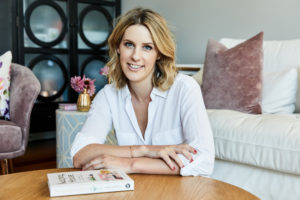 This month on The Style Segment we are excited to be chatting with Emma Blomfield, Sydney based Interior Designer, Stylist, Author and Entrepreneur. With over a decade of experience in the Interiors industry, Emma is extremely passionate about all things interiors and has worn many hats from design and decorating to sourcing and buying, keynote speaking, coaching, writing and various e-services. Emma is a modern-day innovator whose work brings together her design prowess, fresh vision and sharp business acumen and we were thrilled to sit down with her.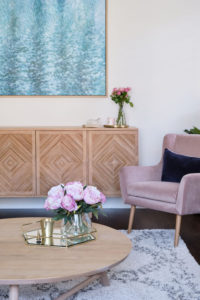 Amy: Tell us a bit about your career journey and how you got into the interiors industry?
Emma: After studying a Bachelor of Business Marketing and realising I wasn't all that passionate about the corporate world, I landed a job with a designer on Sydney's North Shore in high end residential fit outs. I then moved into property styling and then into retail buying for an e-commerce homewares site. I started my decorating business while working in the buying industry and have been in business almost a decade. In 2017 I released my first decorating book HOME (focusing on the 5 elements of decorating and in 2019 I wrote my second book KEEPING HOUSE (which focuses on styling and entertaining).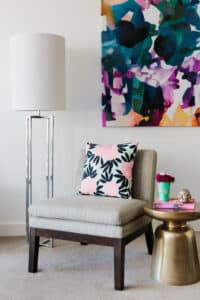 Amy: You're an author and stylist, you offer an e-decorating service and have just launched Décor Library! Tell us about your many creative endeavours.
Emma: Yes there's a few strings in my bow! I wish I could sit still for more than 5 minutes but apparently I can't! I have recently launched a business that I've thought about for years. All designers know how admin heavy our job us but most people assume it's a really creative job – which it definitely is – but there's also a tonne of work behind the scenes too. So, Decor Library is an online platform created for interior designers and stylists to streamline their workflow, allowing them to do more of what they love, designing and creating amazing spaces for their clients. Sourcing products for design projects and all the behind the scenes administration is now far easier than ever before.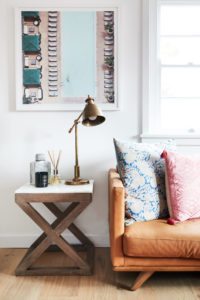 Amy: How would you describe your style?
Emma: I'm much more traditional/classic with my personal taste and prefer more muted colours and pastel tones however my client portfolio is probably more modern and colourful.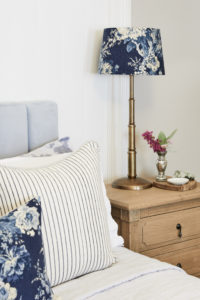 Amy: Do you have any "must haves" for styling a space?
Emma: Always pay attention to the finer styling elements. It's the small details that bring the room together. For example, I always use a small tray on any flat surface in my home with at least a candle, little bud vase and a collection of crystals.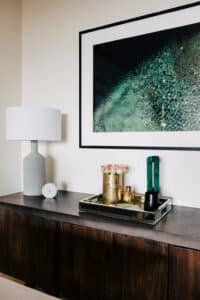 Amy: How do you create a personality through your interiors and styling?
Emma: I like to use styled vignettes throughout the home to showcase character and style to the occupants. These vignettes can consist of things you've collected on your travels or meaningful items inherited.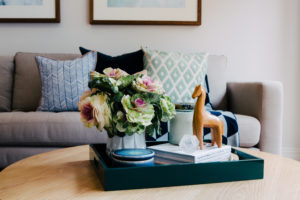 Amy: When preparing an interiors scheme, what do you start with?
Emma: I always start by sketching a floor plan by hand with pen and paper. Then I'll put it into software so I can work out the sizing and proportions of each room. I like to purchase the big ticket pieces for the space first, then layer the rest of the items from there.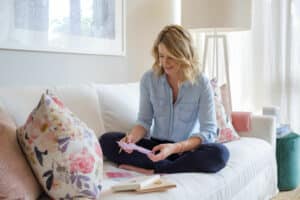 Amy: What's your most treasured styling piece at home?
Emma: That's like choosing your favourite child!!! I have a pretty extensive crystal collection, so I'd have to say they're one of the most treasured pieces. I have them on top of a stack of books in my living room, through to a little cluster on a round marble tray in the bathroom.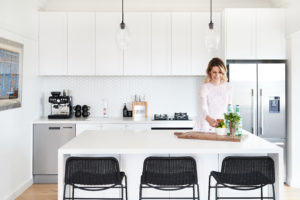 Amy: When it comes to interiors, who is your style icon?
Emma: I love the US designers such as Emily Henderson, Erin Gates and Olivia Brock
Amy: Are there any trends, colours, materials or brands that you are loving right now?
Emma: I'm a bit obsessed with art deco style so fluted glass, brass accents and deep rich velvet tones.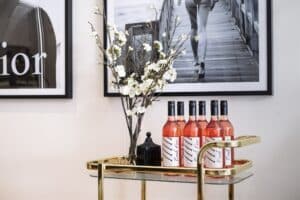 Amy: How do you stay up to date and inspired?
Emma: I use Pinterest for most of my design research and trend ideas.
Amy: What are your favourite items from the Huntley + Co range?
Easton Armchair in Milk
Avery Elm Buffet
Sofia Dining Chairs
Harper Headboard
Orson Elm Bedside Table
Ellery Sofa
Carter Coffee Table
Just to name a few!