This month on The Style Segment we are excited to be chatting to interior designer and stylist Crystal Bailey. Specialising in designing coastal, mediterranean and relaxed luxury spaces across Australia, Crystal has worked with clients such as Lorna Jane, Lisa Messenger, Not so Mumsy and many more. From working on beautiful beach houses, to wellness spaces, restaurants and cafes, Crystal transforms spaces into ones that feel like a holiday!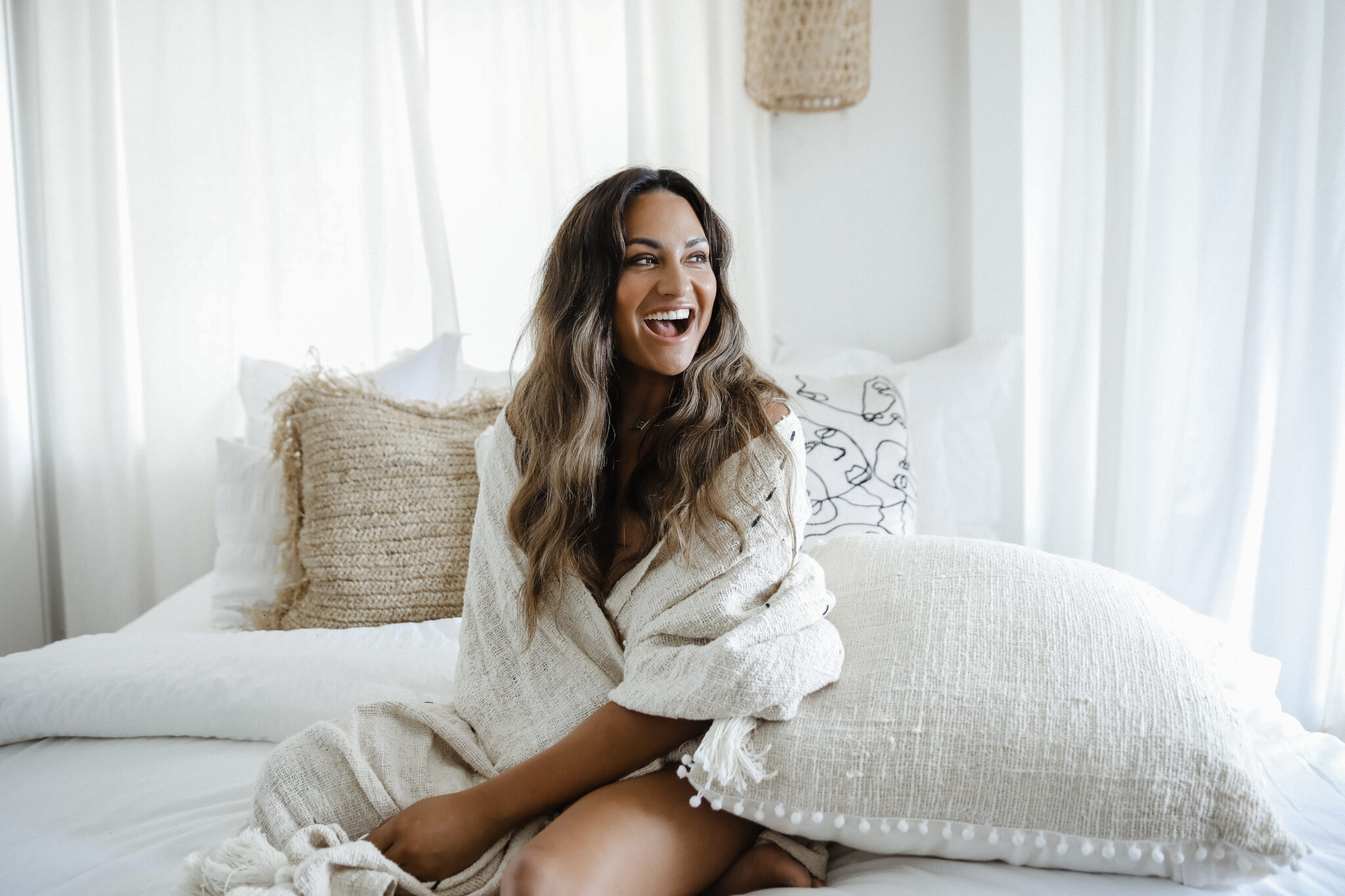 Amy: First things first, tell us how your creative journey started?
Crystal: I grew up watching creative women on TV like Tonia Todman, Martha Stewart and Noni Hazlehurst and it sparked my creativity from a very young age. I would paint walls from the age of 10 and play around with colours and DIY Projects, so I think it was always inside of me. In my teenage years, I was a country music singer and toured around Australia for a decade – that was fun, but not my true passion! I only really went onto pursue it in my 20's when I studied Interior Design and made it official!
After that, I began assisting for Better Homes and Gardens Magazine, then a few years later, created a business by working with concrete and made a collection of home decor, which became a wholesale business and then grew into retail furniture stores called Design Twins.
I then left this business to pursue my Interior Design journey and went onto designing luxury beach houses and boutique commercial spaces with my mediterranean style. It's been an amazing journey and the best is yet to come!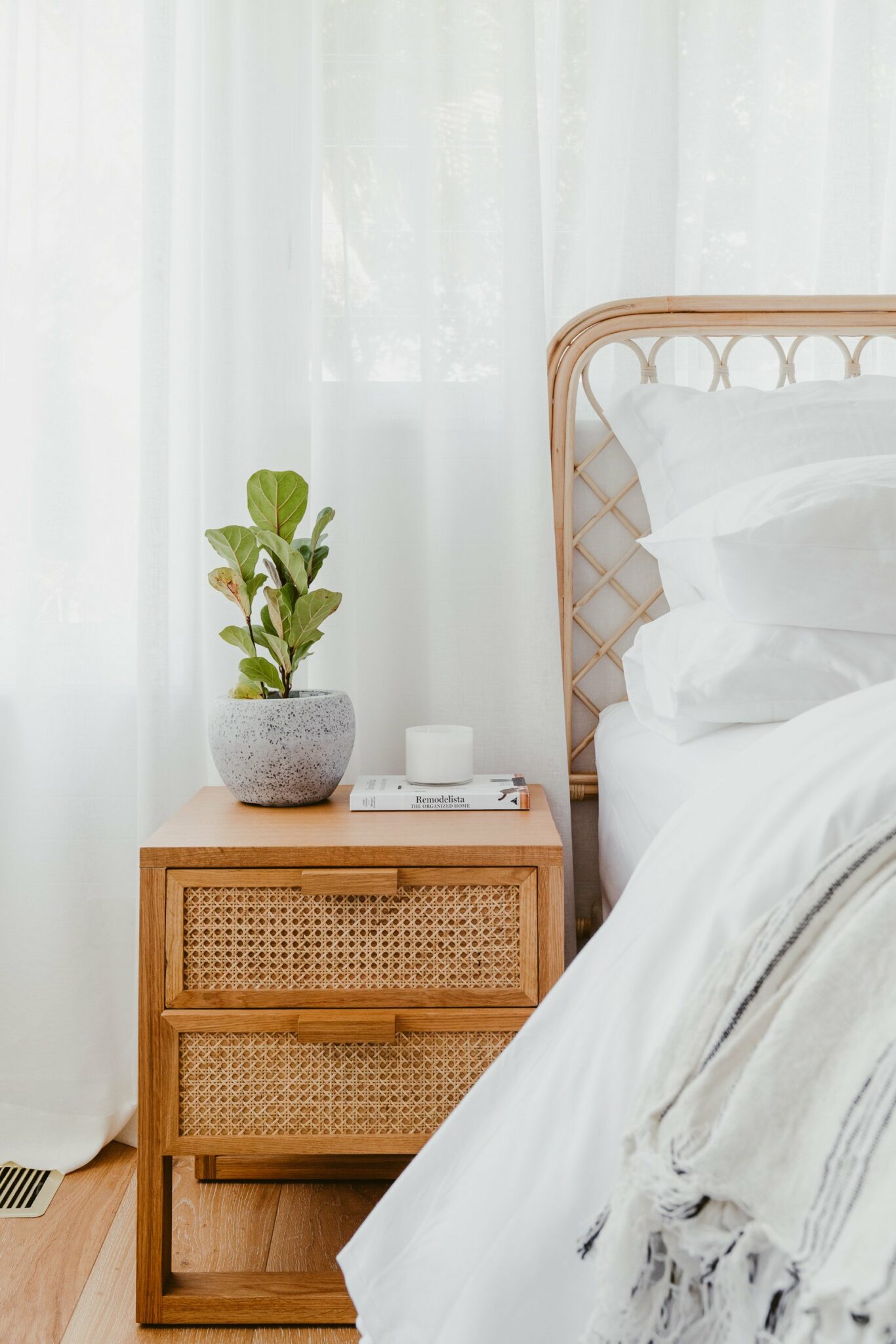 Amy: Tell us about your business?
Crystal: Well firstly, I am an intuitive holistic designer. I have an ability to tap into a clients mind and design a space that suits them and their space. It sounds strange, but I've had this gift from a young age. But you could call me an entrepreneur I guess, because I actually love having a few businesses under my brand.
I have an online store, where I've curated a collection of handcrafted furniture and decor pieces, to bring warmth and personality into your home and make it feel like a holiday. I also teach people how to bring their home to life with masterclasses and I have a design studio, where I design the interiors of boutique commercial spaces and mainly beach houses!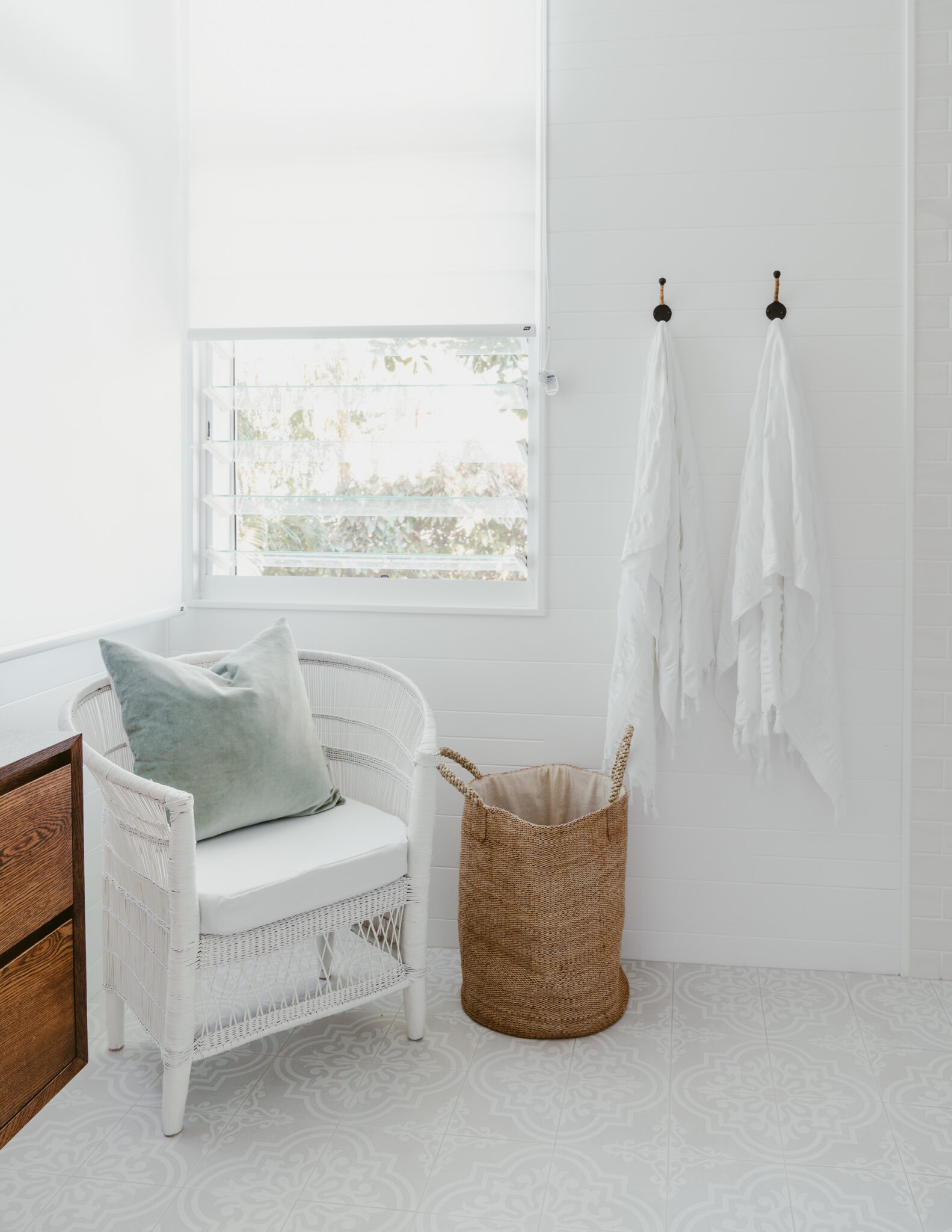 Amy: How would you describe your style?
Crystal: My style is definitely MODERN MEDITERRANEAN!
I am in love with this style as it fuses rustic sustainable materials with modern finishes and designs. It's all about the relaxed luxury lifestyle. I love working with stones, linen, brass and natural materials such as bamboo and rattan. Think rendered arches and travertine floors with olive trees and linen furniture. Yes it's massively on trend right now, but the indian spanish background of my family heritage makes me drawn to this style of design.
Amy: When coming up with your designs and colour palettes where do you draw your inspiration from?
Crystal: It sounds cliche, but I draw it from nature, I am always in nature from the farm to the ocean (I'm a homegrown country girl from Tamworth) and actually moving back there soon! So the dried grasses, the eucalyptus trees and the colour of the earth always inspire me.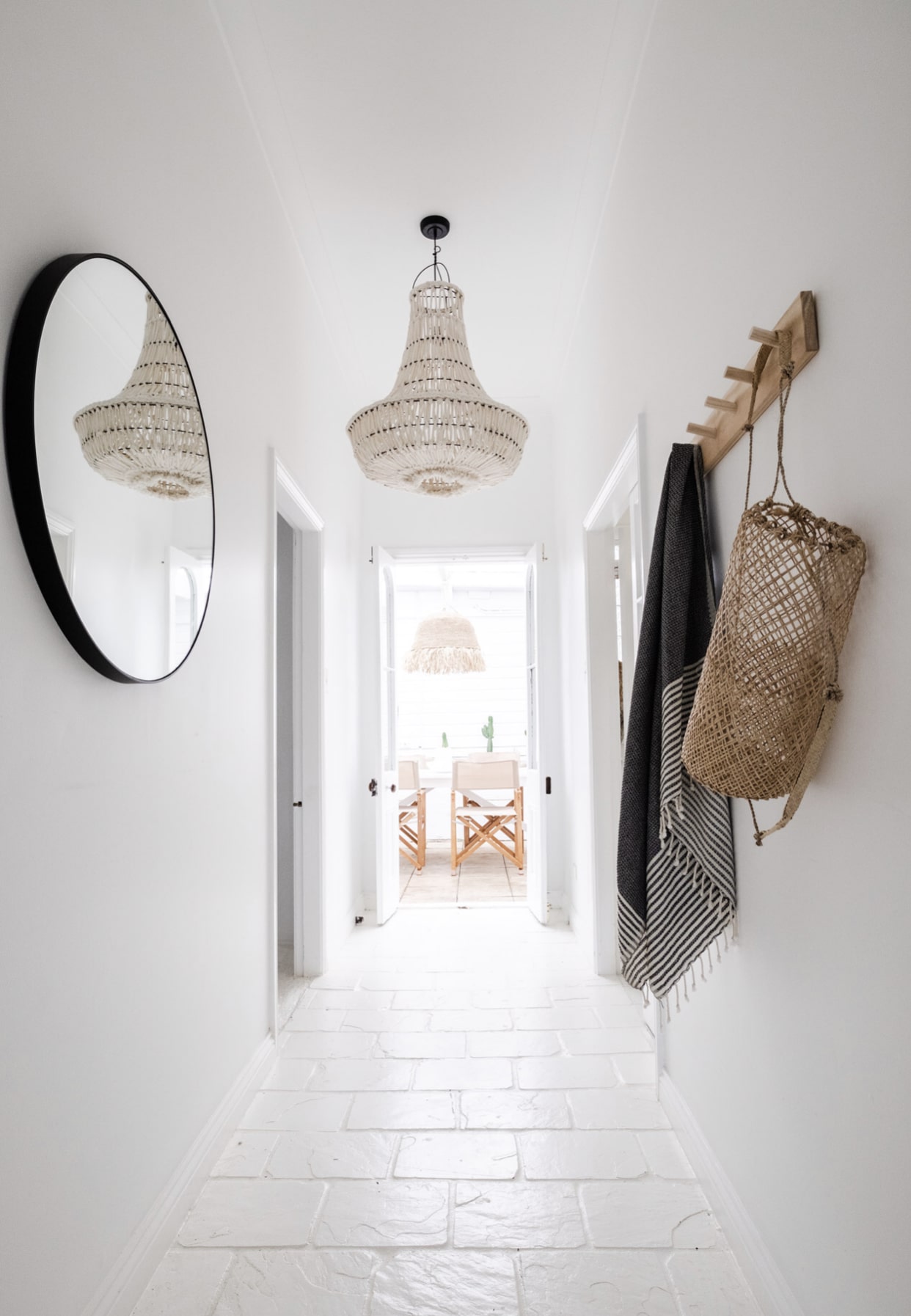 Amy: Do you ever have creative blocks and, if so, how do you overcome them?
Crystal: OMG YES! For the last 6 weeks, you could say I've had one. I was so scared that I didn't think that it was going to get better, I tried having time off and nothing was working. I always change the plan and eliminate things from my life (like a food diet) until I get right to the core of what it is. For me this one was moving home and leaving Sydney to be with my family. I work on projects all over Australia, so I will still travel. My advice is to change the plan, but never the goal!
Amy: Running a creative business can be draining at times. How do you find balance with the work / life juggle?
Crystal: Ohhh yeh! And now I'm about to add solo mumma to the list! I find the balance is when I don't put too much pressure on myself, even if it means that I don't make the deadline. It's called a dead-line for a reason. Because sometimes you nearly get close to dying to make them 😉 but seriously it can be tough and I like to surrender and flow with things, rather than force and hustle. I did a lot of that in my last business and it led me to massive burnout.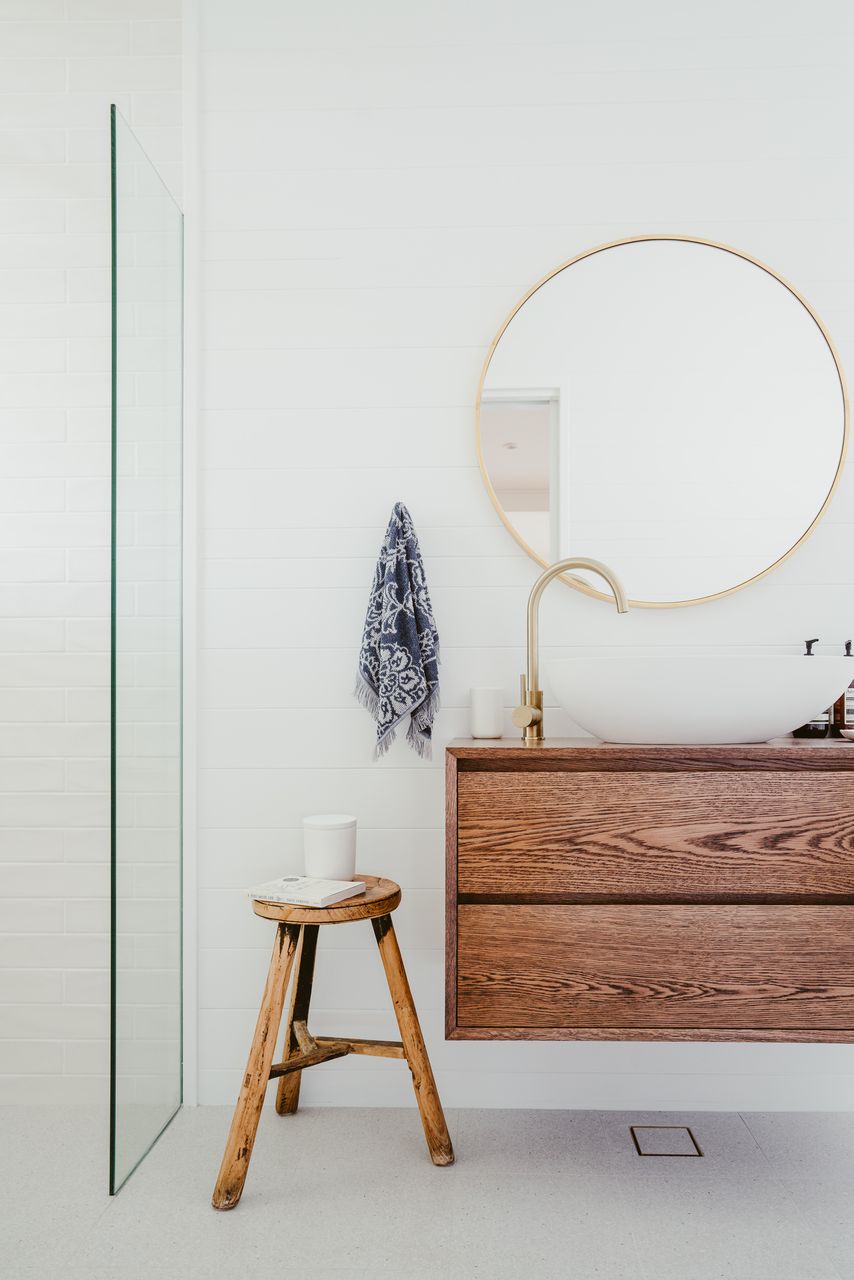 Amy: Once we can travel again, where would be at the top of your list of places to go?
Crystal: MYKONOS!!! You know that I've designed so many spaces like Morocco and Mykonos and I haven't even been there! I would love to travel to Puglia, Marrakech, Mykonos and Tuscany. My designs will be next level after being immersed in these spaces!
Amy: What's your most treasured styling piece at home?
Crystal: Sounds funny but my log stool. I really love log stools so much, I think i've got quite the obsession with them. They're super heavy, but it's the most versatile piece of furniture in the home. Second would be my Crystal Collection.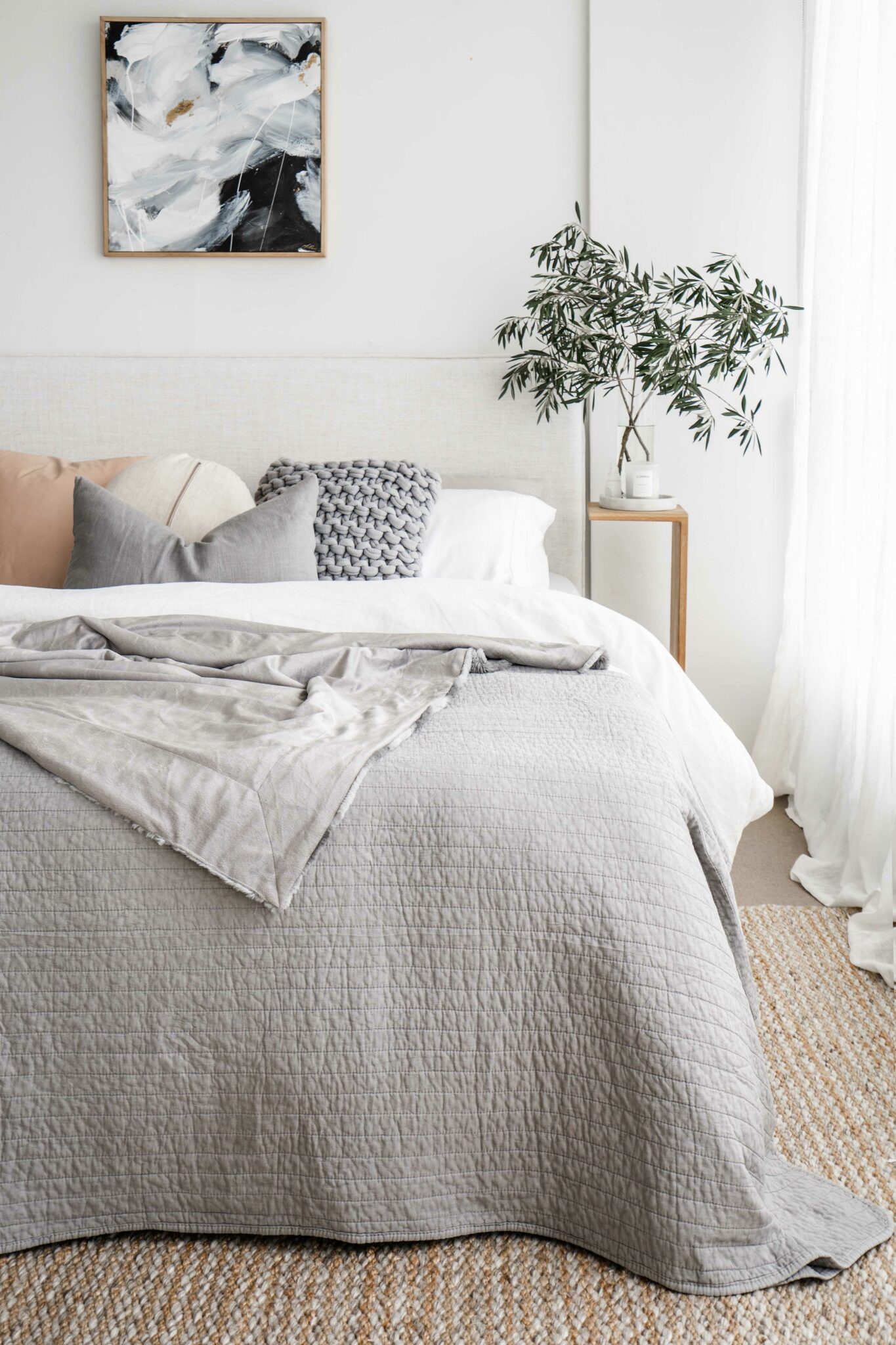 Amy: When it comes to interiors, who is your style icon?
Crystal: Kelly Wearstler for her boldness (I wish we could do more of that here). Also Amber Lewis from Amber Interiors and Studio McGee.
Amy: Are there any trends, colours, materials or brands that you are loving right now?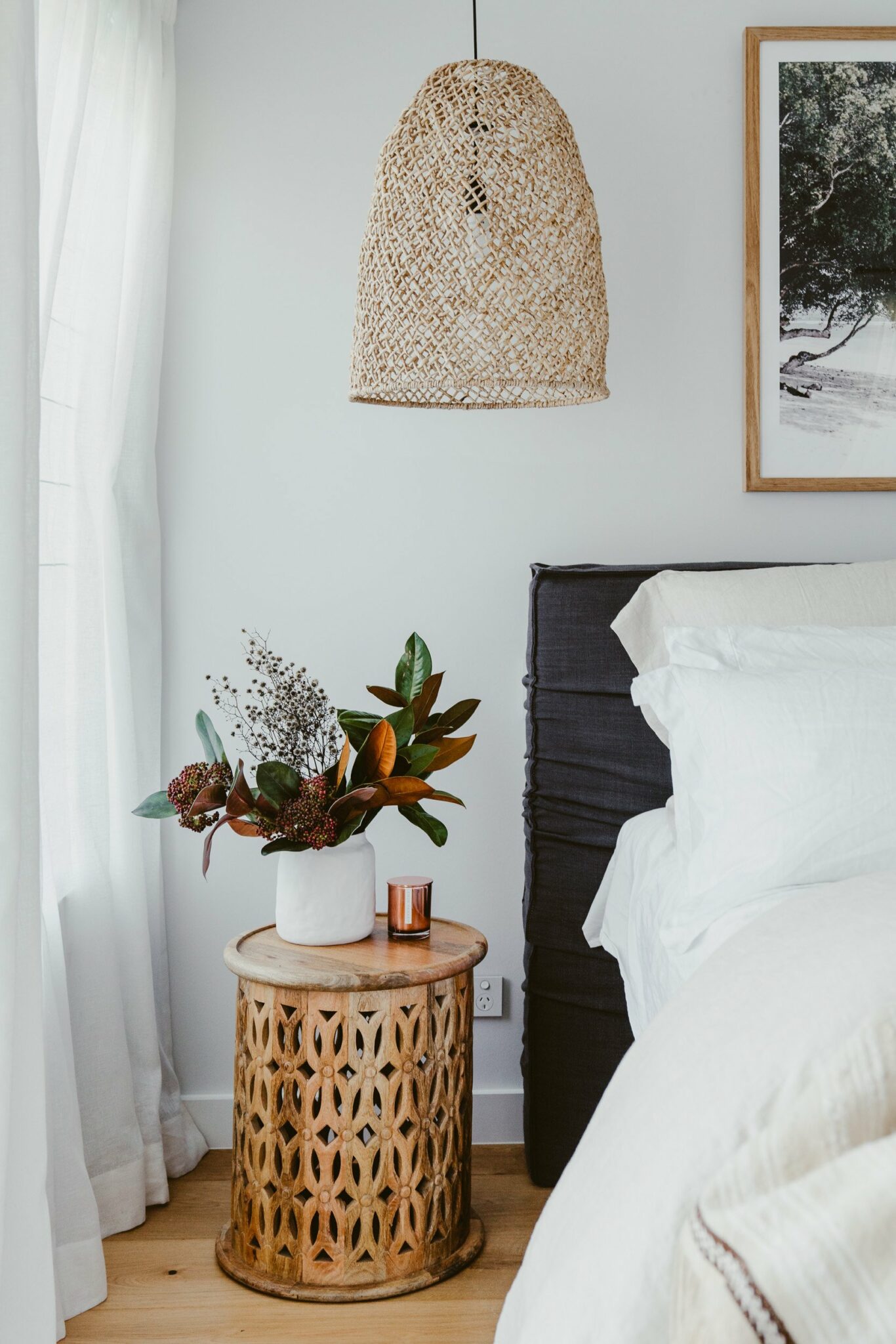 Crystal: Yep you guessed it! Travertine, linen, brass, rustic timber and concrete! Also the fluted designs are really blowing up everywhere from fluted tiles to entire walls.
Amy: What are your favourite items from the Huntley + Co range?
Crystal: I love the Lennon bar stool, the Arlo Occasional Chair, the Benji Occasional Chair, Atticus Sofa, Xavier Nested Coffee Tables.