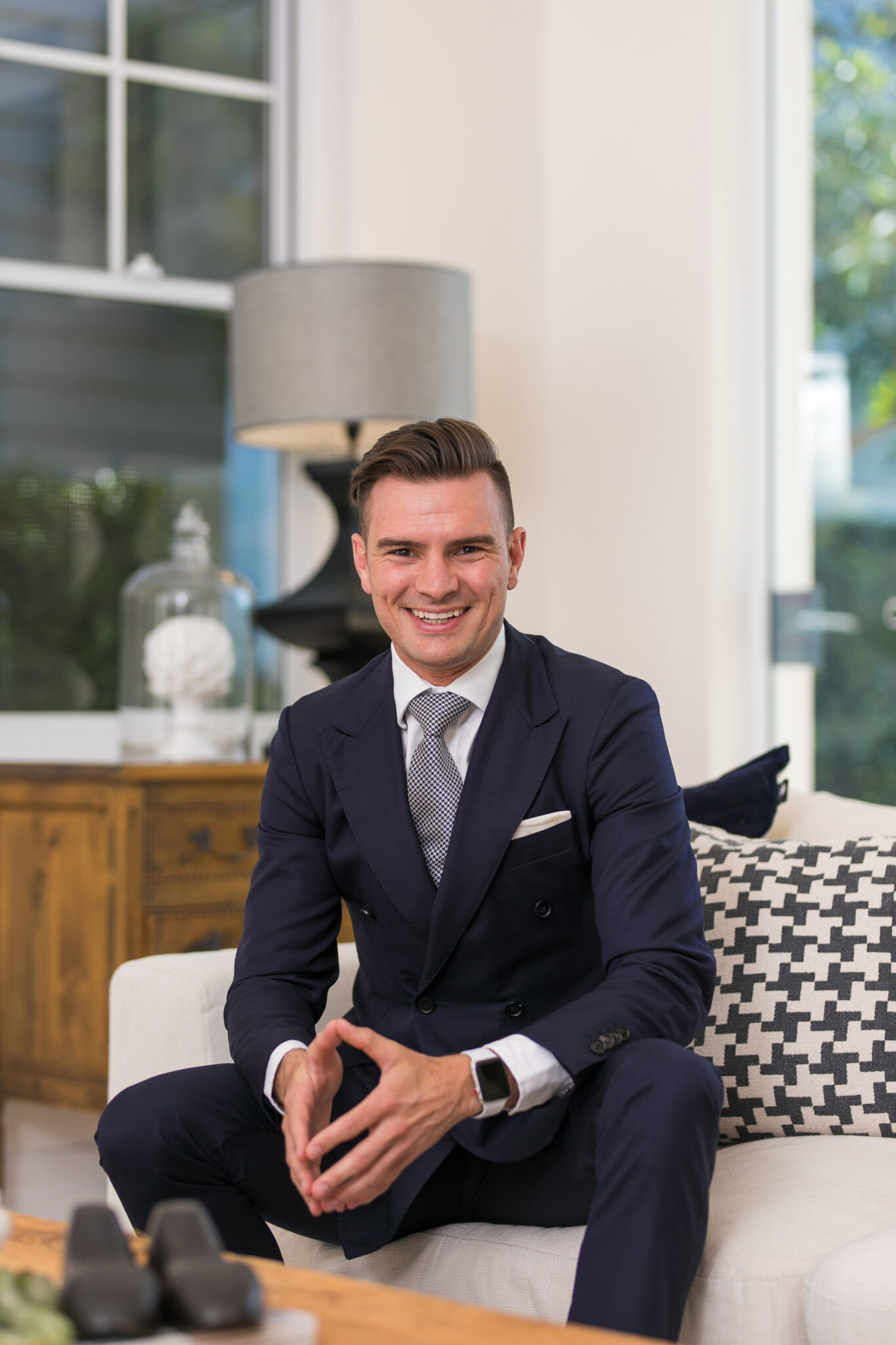 This month we sat down with award winning real estate agent Cameron Nicholls, Principal of Sydney based boutique agency Nicholls & Co Estate Agents, to find out what exactly agents are looking for when it comes to appointing a property stylist. Read on for our Q&A with Cameron to learn some valuable insights…
How important is property styling in today's market?
It is indisputably a vital part of the selling process. When presenting a property to market that has not been styled, you are the odd one out. In the past, styling was considered an expensive and unnecessary extra, but now it is an essential value add.
Is property styling worth the investment? What kind of a return are your vendors seeing?
Without a doubt! It's very difficult to quantify just how much you can expect for your return on the investment, however I can categorically state that a vacant un styled property will sell for significantly less than its styled counterpart….significantly less. Therefore, it's an investment well worth making.
What do you look for in a property stylist?
Someone who doesn't have a cookie cutter approach and is always coming up with fresh ideas. I'm after a stylist that considers the buyer profile before selecting the furniture and decor. A stylist that seems to be on the same wavelength as me in terms of the way they operate is also a big plus. So a hot tip to stylists would be to align yourself with your agents and develop an innate understanding of how they do business. And quick turnaround from style to sell is also very favourable and something I look for.
If a stylist would like to work with you, what is the best way for them to approach you and pitch their services to you?
If a stylist sent me a personalised video via text, they would get my attention. If I'm being perfectly honest, attempts to email or cold call falls on deaf ears.
Styling is a competitive industry. In your eyes, how can a stylist set themselves apart from the competition? 
The quality of the furniture installed sets stylists apart from one another. I also feel it would be handy for them to elaborate on why they chose a few of the key pieces for the space, so that we can relay to buyers as a talking point. When executed correctly, the styling can really engage a buyer and serve as a topic of conversation and rapport building… and ultimately help to sell them home!
How many quotes do you typically obtain before hiring a property stylist?
Two to three for the vendors to compare.
How important is the buyer demographic in influencing the property styling? Do you brief your stylists on your target buyer demographics?
So important. I expect the stylist to select furniture and décor pieces in line with the buyer demographic and the overall feel of the area or the development itself. Often this can be hard to achieve when the vendor gets involved and opts for the cheapest package or makes furniture choices based on their own personal tastes that don't match the buyer and area profiles. But if the stylist is experienced enough, they will navigate and manage this process successfully.
Talk us through the timeline of hiring a property stylist. What is the lead time between obtaining a quote and getting the property onto market?
From the moment we are appointed to sell the property to being photo shoot ready, it is typically a two-and-a-half-week period. It is essential the property styling is completed by this point, which I can appreciate is a tight turnaround but that's the pace at which the industry operates.
How should a vendor prepare their home for a property stylist?
If it is a partial style where the vendors are living in the property, I would recommend they de-clutter the home as best they can prior to the stylist's initial consultation. This obviously helps the stylist best visualise what is required in the space and enables them to quote on the job efficiently. However, it is the stylist's job to brief the owner on what is required to be removed furniture and décor wise, as this is their area of expertise.
What are your buyers looking for right now in terms of home styling?
Buyers are definitely appreciating additional space to create a study or work from home environment given the current world we live in. Comfortable practical spaces are always favoured among buyers. There is nothing more off putting than a completely impractical layout, be that an impractical floor plan or impractical furniture configuration. And no surprises here but buyers still very much show a preference to open plan living.
Do you prefer to be part of the styling process or have the stylist deal with the vendor directly?
I'm a big believer in everyone playing their role in the process. This means I must know that I can trust the stylists I work with to deliver the very best that they can. I don't like to micromanage and get caught up in an area which I have not been properly trained. I have other things I should be doing rather than questioning the stylist's decisions.
How would you describe the current climate of the Sydney property market?
Some areas are white hot while others are more transactional. As a general comment the market is very buoyant, and we could potentially be sitting in the middle of a peaking market.
How are the COVID-19 restrictions affecting operations and results right now?
Current restrictions require agents to show property one on one, as opposed to open for inspection times for the masses. I believe this format encourages more genuine buyers and less sticky beakers/nosy neighbours. This one on one also allows agents the time to nurture buyers individually at every viewing, to allay any fears, questions or concerns. I am allowing 15 minutes per viewing and have found that this is ample time for people to view the property and then proceed with questions following their viewing. This question time is key to ensuring that interested buyers stay engaged with the property and build the necessary rapport with me as the selling agent which is crucial when it comes to price negotiations. In terms of results, there's fewer properties on the market right now but plenty of qualified buyers so we are seeing some stiff competition, which is producing some very strong prices and quick turnarounds in areas of high demand.
Thanks for your valuable time Cameron, from the team at Huntley + Co.