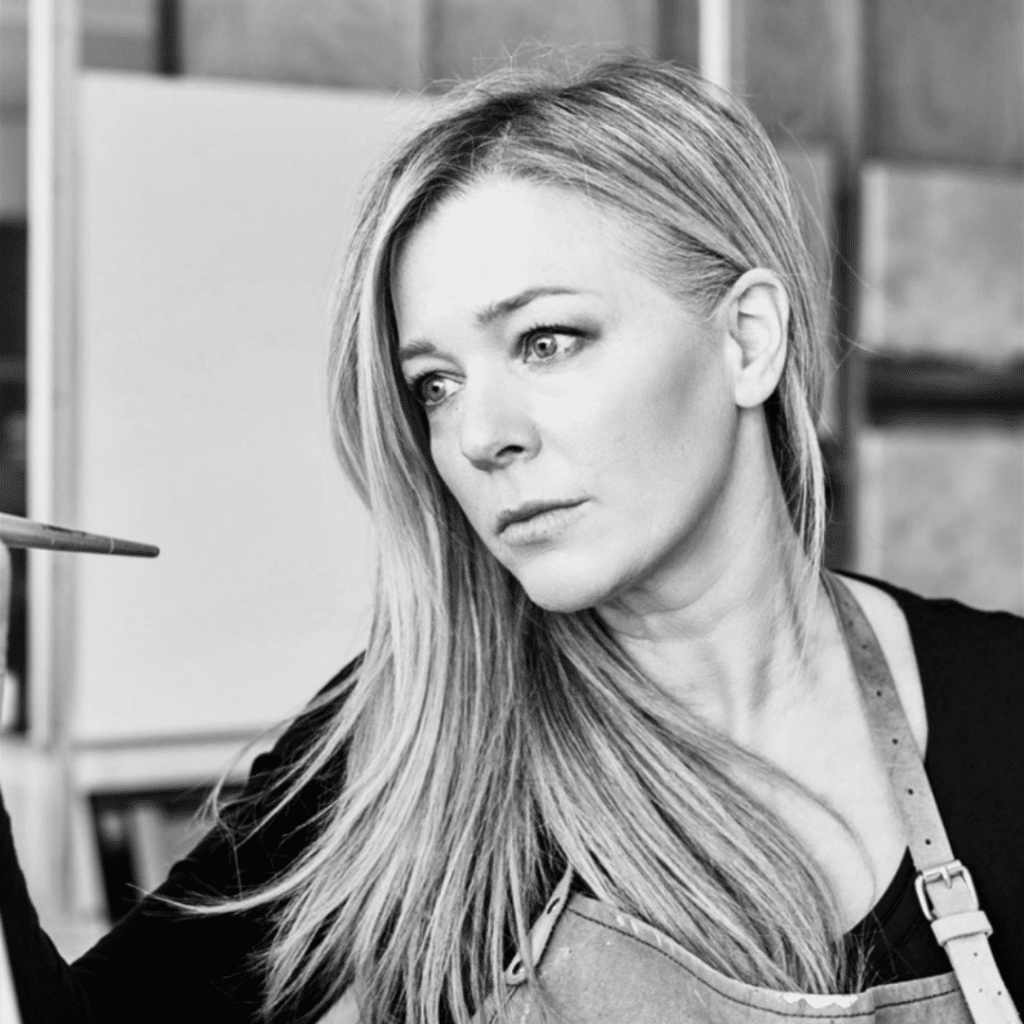 Image source: Debbie Mackenzie
This month we are excited to be chatting with the ever so talented artist, Debbie Mackenzie.  Debbie has a way of whisking you away to peaceful and serene places through her incredible artworks which are inspired from her whimsical childhood memories of the Mornington Peninsula and her family beach house at Peterborough on the Great Ocean Road. After studying Graphic Design and a fulfilling career in advertising, Debbie embarked upon a journey into the romantic world of fine art. Her paintings are largely about reverie; a sense of place, a desire to be there. Debbie believes now more than ever is the time to be a dreamer. A John Leslie Art Prize Finalist for 2020 & 2018, Debbie has exhibited in numerous solo shows and group exhibitions with work in many private collections across the country and abroad. Debbie's work continues to drawer on the emotional yearning for transcending beauty, to calm the complications of modern life.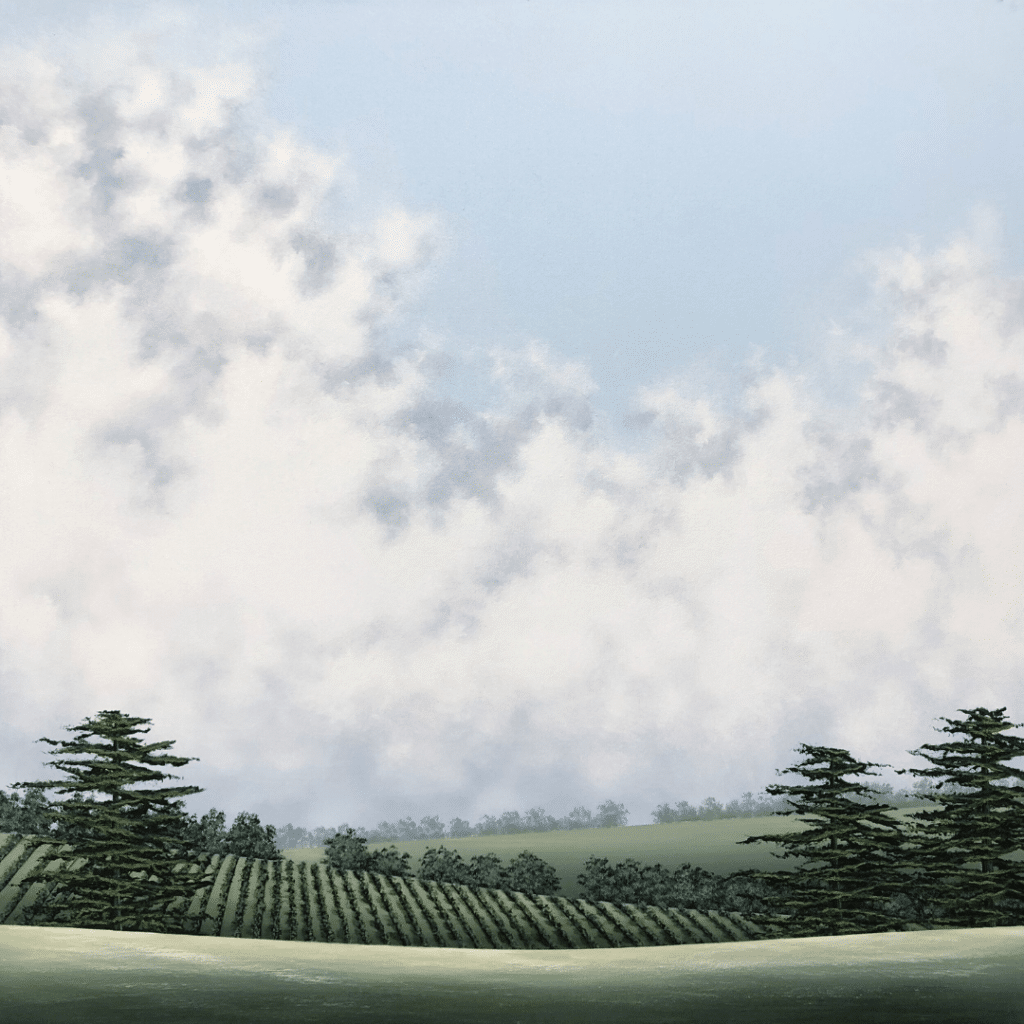 Image source: Debbie Mackenzie
Q. How did your creative journey start?
I can't remember ever NOT being creative.  I was always drawing as a child and then as a teenager I was constantly drafting up new bedroom plans and designs.  After I finished Year 12 I went on to study Graphic Design.  From there I went to work in the film industry but ended up being poached by a Creative Director to be his assistant.  To justify my salary he had to share me with Account Service so I ended up learning all about the strategy and marketing side of things and I absolutely loved it.  I never really stopped drawing through this entire journey.  It wasn't until I had children that I really immersed myself into painting.
A. Can you tell us where your inspiration comes from?
I'm fortunate enough to live on the Mornington Peninsula and I'm surrounded by incredible geography.  One side of the Peninsula is the Bay and the other is coastline and in between is rolling green hills of incredible beauty. Until recently we also had a beach shack right at the end of the Great Ocean Road which had been in the family for nearly 120 years, it provided an immense amount of inspiration to me.  Big skies and vast land really had an impact on me from a very early age.
I'm also an avid reader of interiors magazines and have been since I was a teenager.  I love to be across art, photography, interiors, architecture and landscape design.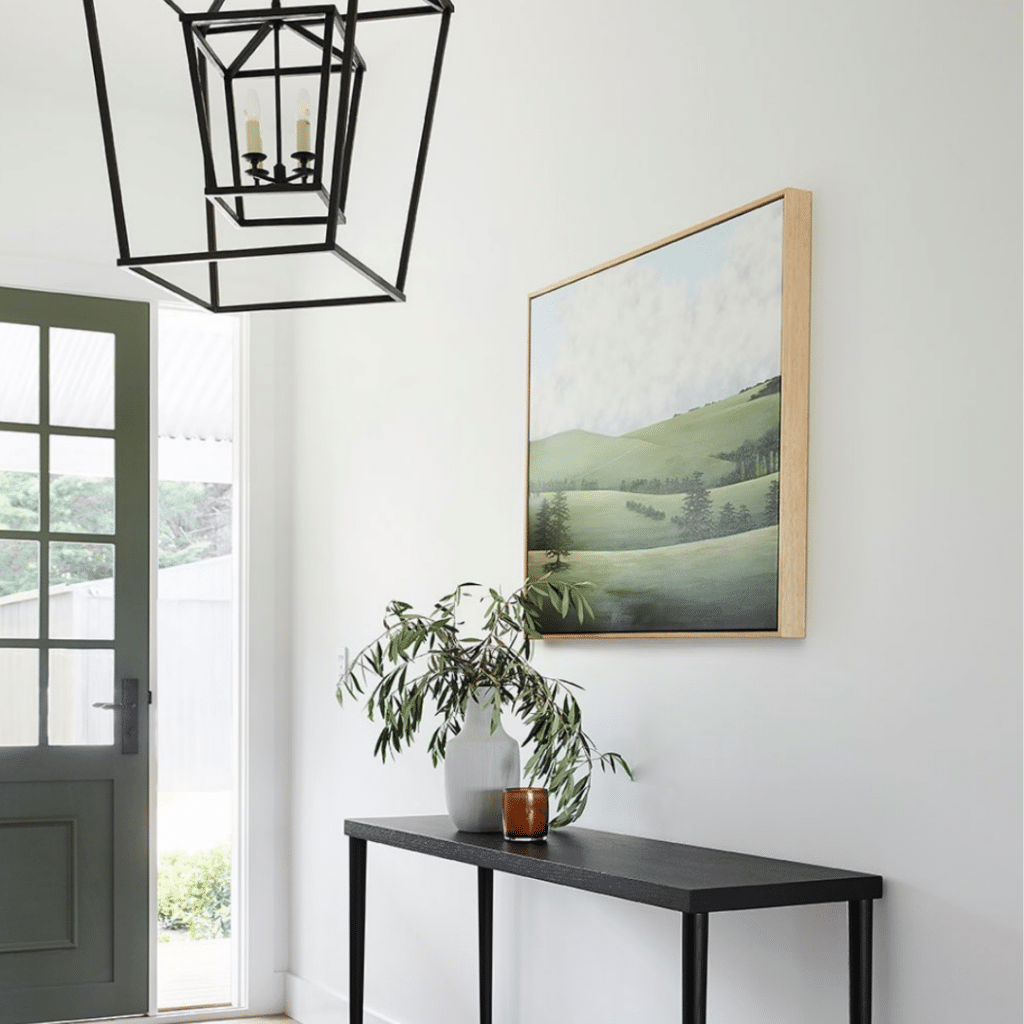 Image source: Debbie Mackenzie
Q. Are there any palettes or materials that you are loving right now?
A. My palette is fairly consistent and I never tire of it.  I am obsessed with my brushes which are from Spain and getting harder and harder to buy.  The are Escoda round brushes with big copper casings, they're a piece of art themselves.  I take great care of each one of them.
Q. How do you start your creative process?
A. I drive around and take a large number of photos, each shot is framed up to be the composition I would paint.  And even though I gather a vast number of photographs with clear ideas of exactly what I'm going to paint, I actually don't ever refer to them again.  I get into the studio and paint entirely from memory.  Once I'm in the studio I get onto my Spotify list and crank the music.  I'm at my absolute happiest when I'm painting and singing away.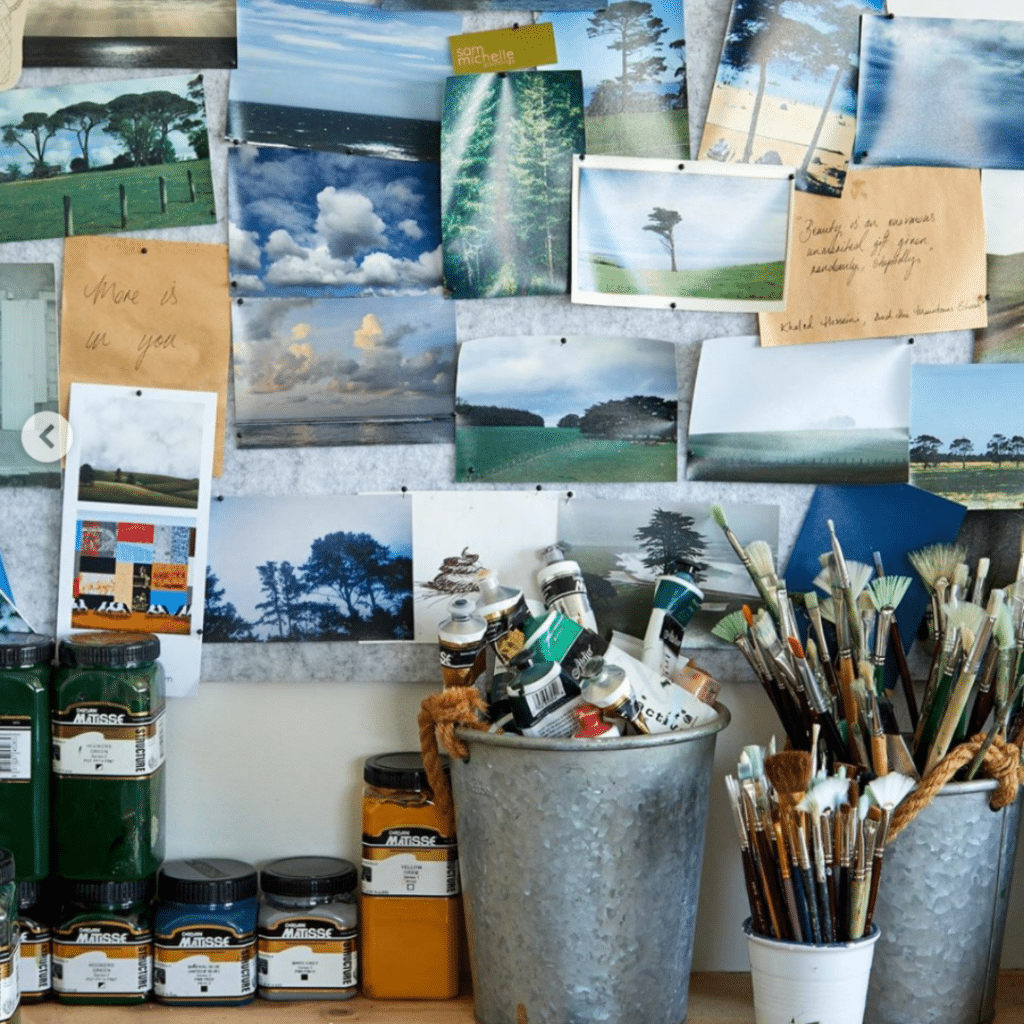 Image source: Debbie Mackenzie
Q. Have you ever suffered from a creative block? If you have, how do get the creativity flowing again?
A. Oh yessss, Having said that Im pretty good at resetting myself and getting on with it.  Once I start mixing colours and a good tune starts I'm back into the flow of things.
Q. Who are your favourite creatives to follow and inspire you?
A. I love Sam Michelle's incredible still life. I'm a massive fan of Julian Meagher and his simple, skillfull application of light and dark.  I also love Vanessa Stockards imagination and very clever paintings that make me smile from ear to ear.  Deb McLean from Doswell & McClean has an incredible eye for all things interiors. Fuckology and their very funny words that make each day a little easier mentally!  Interiors by Studio Piet Boon, FoxFire Mountain House, EST Studios, Studio McGee, Robson Rak Architects and one of my favourites, FOLK Magazine.  I could go on for paragraphs but I'll stop there, I have gathered a long and loyal string of many friends in creative fields, its hard to decipher who my favourites are, I do feel very blessed to have such a large group of bright and generous beauties amongst them to bounce ideas off and celebrate any successes.
Q. How would you describe your personal style?
A. With regard to my home, I'm drawn to old things with history and character.  I like things that have a story, I started collecting antiques and old wares as a teenager, some of which are still my favourite things today.  I would consider my style European, Relaxed and Coastal.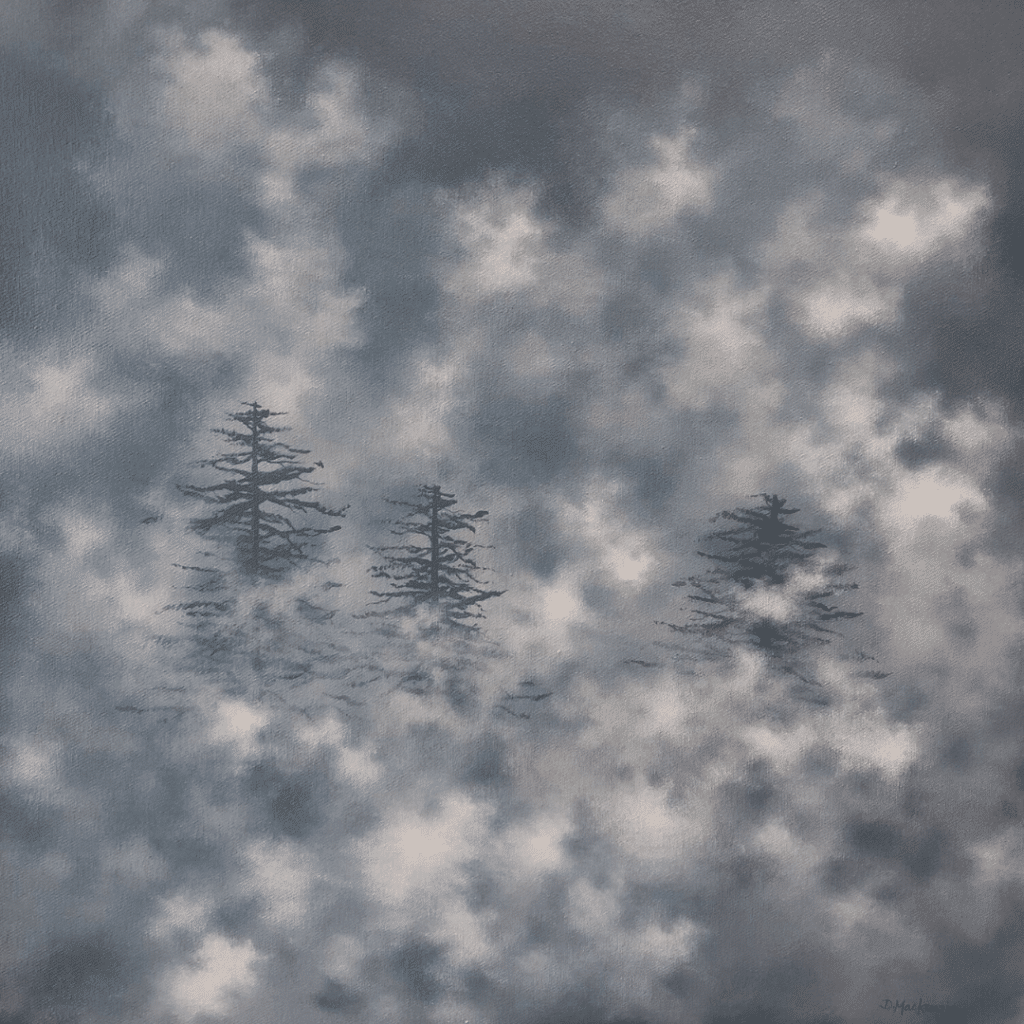 Image source: Debbie Mackenzie
Q. What's your most treasured piece at home?
A. Ooh I have a few, a glass bowl, blown and etched by my Uncle Tony Hanning (who was the pioneer of glassblowing and etching in this country), a seascape painting that was my grandparents, and an old original fisherman's basket from our holiday house.  My Dad's entire vinyl collection. And our animals, Maple Mackenzie the rescue cat, Scout the golden retriever and Buddy the Cavalier.
Q. What are your favourite items from the Huntley + Co range?
A. The Alexander Occasional Chair , Log Side Table in Natural, Sparrow Bench in Oak