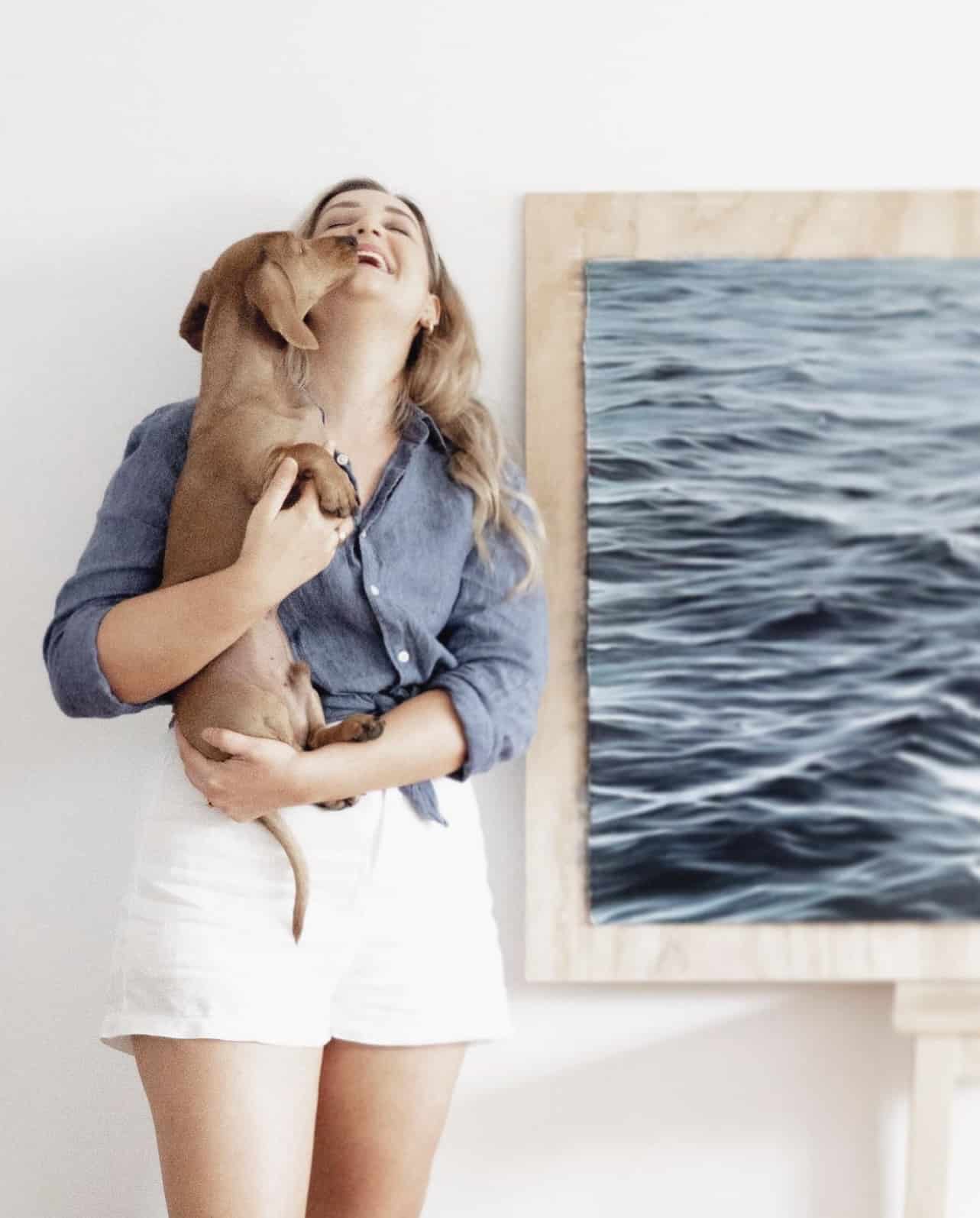 This month on The Style Segment we're excited to chat with Beth Moffat, a visual artist from Brisbane that explores the beauty and detail of natural wave forms. Using just a humble pencil, she creates beautiful seascapes that showcase her fascination with the ocean.
Now let's hear what Beth had to say about her journey to becoming an artist…
Amy: I am a big fan of your artwork. Can you tell us how your creative journey started?
Beth: Creativity has been a part of my identity for as long as I can remember. I was a child with a wild imagination and I was always making or inventing. As a teen I was obsessed with realism and spent hours upon hours carefully detailing portraits. Seeing something come to life just using your hands is very satisfying. I started drawing the sea a few years ago and slowly started getting commissions and selling my work until I got to the point where I was able to create full time.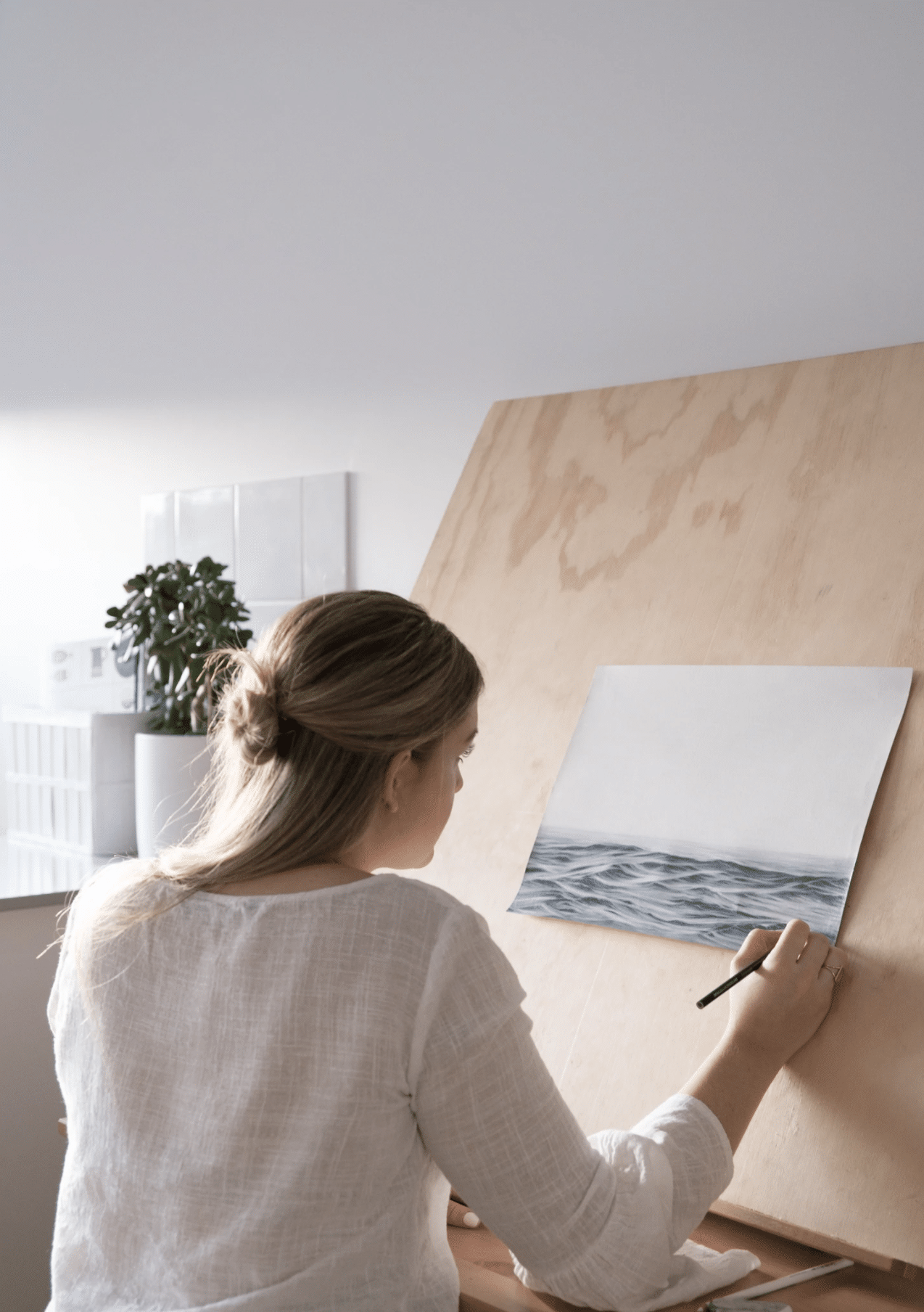 Amy: Where you draw your inspiration from?
Beth: It's obvious to say I'm inspired by the sea, but I like drawing on the emotional response we have when surrounded by these beautiful big bodies of water. It's a universal, indescribable feeling. I'm inspired by textures found in nature and I love to create things you want to reach out and touch. I also enjoy elements of vintage illustration so that often creeps in to my work.
Amy: Your artworks have a beautiful sense of calm to them. Can you tell us how you start your creative process?
Beth: It usually begins with an idea, then I go and try and photograph what I have in my head, or pore through the archives of imagery from my travels. Sometimes inspiration strikes and it turns into something completely different to what I had envisioned. Once I have a particular photograph or collection of images to reference, I map out the wave pattern in pencil. This process usually takes a couple of days. I'll often use projection for larger scale pieces to see how it will translate onto paper. Then I slowly build layer upon layer of coloured pencil to create smooth waves. The whole process can take weeks or even months depending on the size of the piece.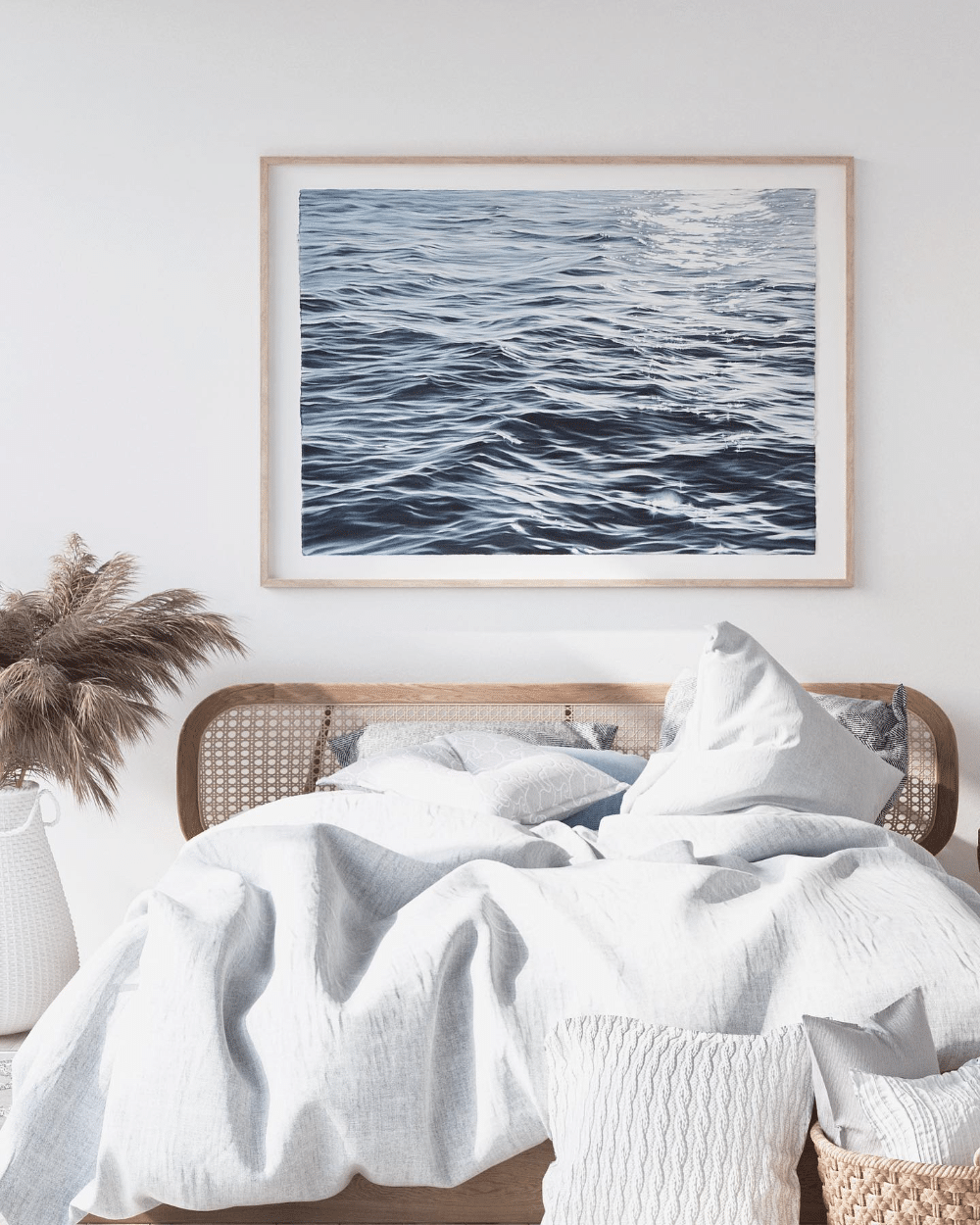 Amy: Have you ever suffered from a creative block? If you have, how do get the creativity flowing again?
Beth: Yes, all the time. Especially since I started creating full time. Sometimes I just need to step away from the seascapes and create something new, or do something completely different like bake, play around with clay or any other creative outlet without the pressure of being paid for what I make. My friends are pretty crafty, so there's always someone to cook or create with. If I need a quick dose of inspiration, I take a little time out with a good, strong coffee or a glass of wine, listen to music, read a book, look through a magazine or have a scroll through Pinterest. Usually, one of those things does the trick!
Amy: Are there any colour palettes, textures or materials that you are loving right now?
Beth: Since my husband and I are currently in the midst of renovating our little Queenslander, my life at the moment is looking at samples and scrolling the internet for inspiration. I'm a very tactile person so I'm making sure every element feels and looks beautiful. I'm loving glossy ceramics, check patterns and textiles like velvet and linen, or metals like antique bronze and brushed brass. I'm sure these things will influence my work too.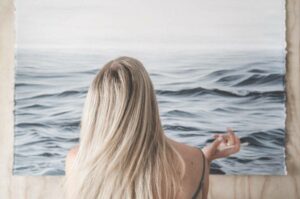 Amy: Who are your favourite creatives (in any field) to follow and inspire you?
Beth: I'm surrounded by lots of amazing creative people in my personal life, but on social media I love to follow/stalk a range of creatives in all different fields. My favourites change weekly! At the moment, I'm loving the work of Whitney Spicer, Bobby Clarke and Jane Forbes, but I think my next purchase will be a piece by Sofia Lund. In terms of interiors, I follow The Three Birds, Geneva Vanderzeil for DIY's and En gold for style inspiration.
Amy: If you could travel anywhere right now, where would you go?
Beth: I've been dreaming of going back to Copenhagen and would love to spend some more time exploring the Nordic Countries. I've just had a baby boy, so I'm dreaming of taking him on a winter holiday. A cosy little log cabin in the snow would be magical.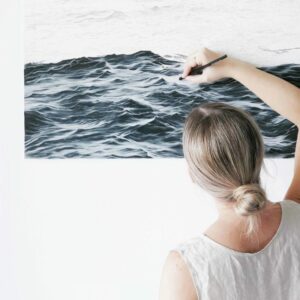 Amy: What are your favourite pieces from the Huntley + Co range?
Beth: I love the Mila Sofa in Boucle and the Baker rug! Textural heaven.